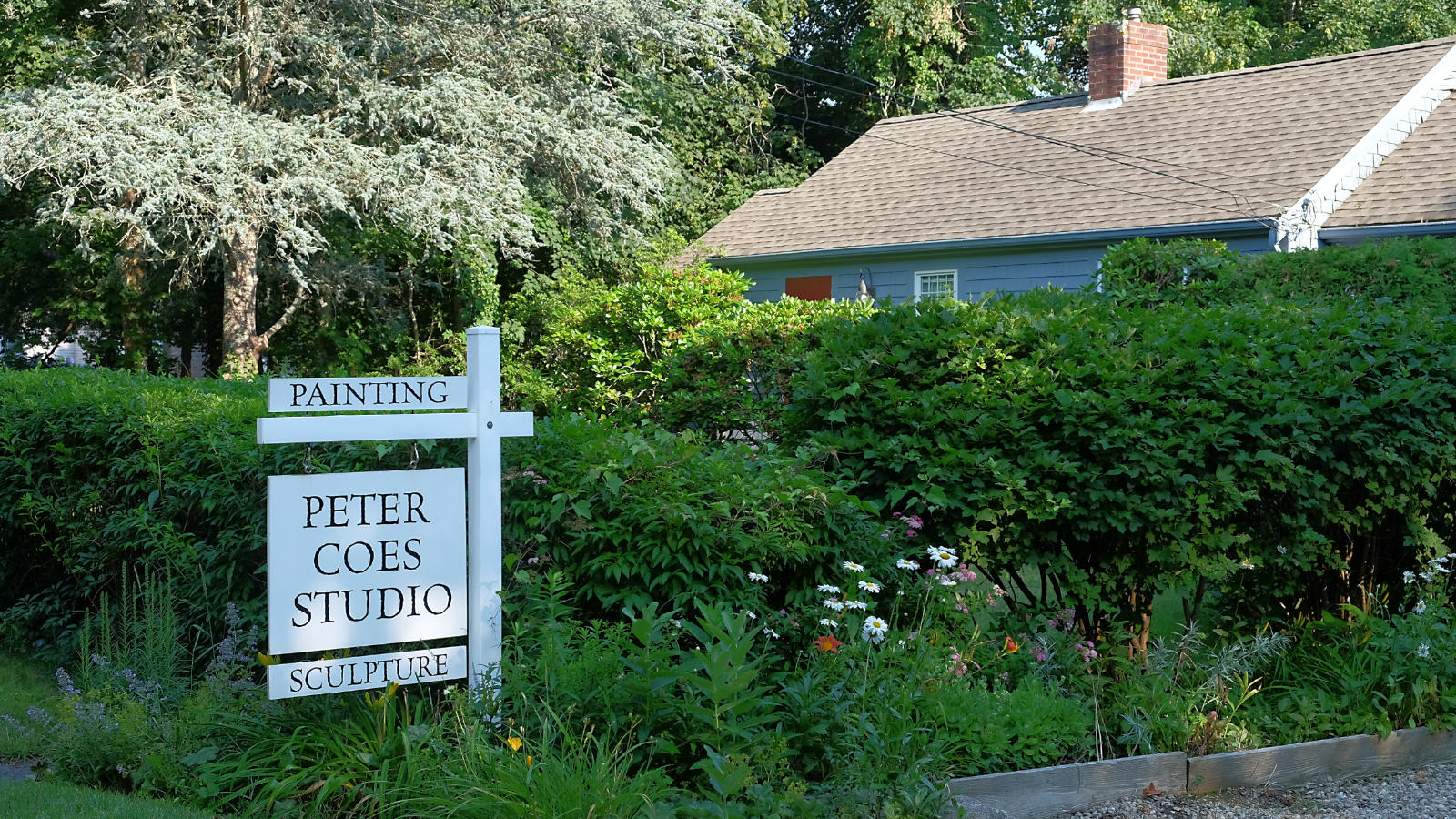 The Peter Coes Studio gallery features the paintings, sculpture and castings of Cape Cod Artist Peter Coes.
The Gallery Is located in Cummaquid on Historic Route 6A on Cape Cod. Get Directions.
Painting in the narrative tradition, Peter Coes produces two- and three-dimensional compositions of decidedly ordinary Cape Cod scenes, which are yet steeped in ambiguity, rife with enigmatic elements that evoke an open invitation for rich self-reflection.
Using distinctive and iconic imagery and palette, Coes has created a unique visual lexicon that is both entrancing and entirely unforgettable. His houses, boats, bicycles, women, birds and cats amidst dunes, waves, grasses, trees, shadows and seashells speak in soft, stirring tones of lives lived, the days at hand, as well as ones yet to be discovered.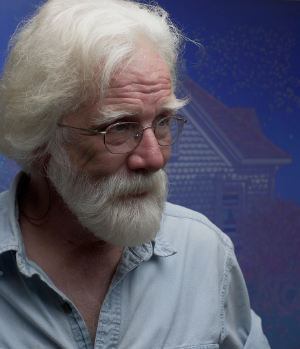 "A large amount of my effort goes into creating details and then attempting to hide them in the visual texture of the work. The idea is not only to provide the most complete and complex narrative, but if possible, to offer more than can be taken in in one viewing, to allow for an ongoing sense of discovery."
An award-winning artist, Peter Coes has been the subject of many feature articles in national and regional fine arts publications, as well as numerous solo exhibitions and museum invitationals throughout the United States. He has been a member of the venerable Copley Society of Art for over thirty years, achieving the distinguished status of Master in 2007. Of particular note, in 2002, the Cahoon Museum of American Art presented Peter Coes' Neighborhood: A Thirty-Year Retrospective. Most recently, the Cape Cod Museum of Art presented a solo exhibition, Peter Coes' Studio.
Biography
Peter Coes was born in 1946 in Springfield, Massachusetts, but his first real neighborhood was in nearby Longmeadow. There he grew up in a creative household, with a mother who painted portraits and a father who painted for fun. Peter always made pictures and some of his own toys, and he encountered only encouragement when he decided to go to art school.
After majoring in sculpture at the University of Hartford, Peter lived in a cabin in the woods in Granby, Massachusetts. By day he held a routine job, but in the evenings continued his artwork. Since there wasn't enough room to make sculptures, he turned to painting. During this early period, he often invented dark scenes charged with mystery and psychological symbolism. A girl in a pink dress runs through the woods toward the light. Young female nudes "hide" in places where they're actually quite visible, such as under a hollow riverbank. Mystical maidens in long white dresses hold candles of hope.
On the day he made his first sale–an art dealer bought five paintings at once–Peter left his day job behind and resolved to succeed as an artist.
"Up to that point, I made art because it was just something I did," he says.
"This made me take myself more seriously. This made me realize these paintings communicate with other people, too."
In 1980, Peter moved to Provincetown and his work began to reflect the light-filled atmosphere. In his new environment, he also developed a visual vocabulary that has remained rather constant through the years. Visit the neighborhoods of his creation and you're apt to see vintage Cape Cod houses, cats poking about in grass painted blade by blade, boats resting on their cradles and temporarily abandoned bicycles. The people in Peter's neighborhood are almost inevitably girls on the cusp of womanhood. They're his protagonists, radiating quiet self-possession, yet tender and sometimes dreamy.
Although picturing the commonplace, the Cape paintings retain the enigmatic mood of Peter's earlier work. A curtain blowing through an open window or footprints on the sand or snow suggest an unseen presence. Girls, cats, even houses seem to wait with an air of wistful expectancy. The season is often autumn, with falling brown leaves imparting a semisweet sadness. Typically, the paintings suggest stories, but allow us to finish the tales ourselves. In some works– especially those involving dollhouses and other toys–the line between reality and fantasy magically dissolves.
Peter's excellent draftsmanship combined with his appealing linear style puts him in some realm between the realists and primitives, not really in either camp. Recently, he's done landscapes in which areas of solid color take the place of painstaking detail, but they're still Peter Coes–no doubt. Peter has also returned to sculpture, fashioning and painting wood constructions and carvings that closely resemble his two-dimensional works in their motifs and colors.
Since 1999, Peter Coes' neighborhood has been the mid-Cape village of Cummaquid. He and his wife, Linda, live there with their pet cats. A converted barn on his Route 6A property serves as his studio and gallery.